Trailers USA 2 Horse Bumper Pull XL with Tack storage and Feed Mangers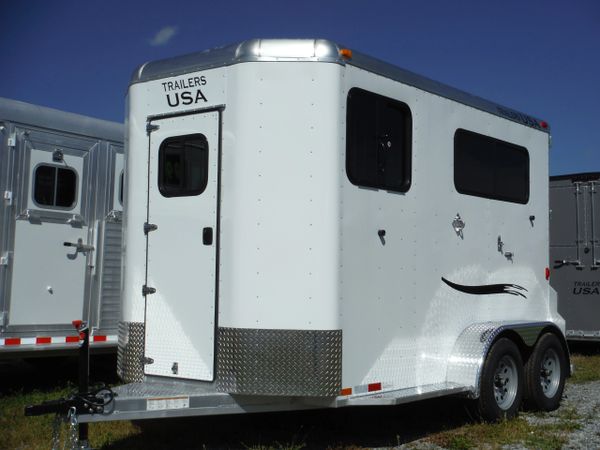 Trailers USA 2 Horse Bumper Pull XL with Tack storage and Feed Mangers
*********SOLD**********
2017 Trailers USA 2 Horse Bumper Pull XL -with Tack storage and Feed Mangers
7'6" Tall x 6'8" Wide x 12'3"Long / 1' added to stall for larger horses

Aluminum Frame, Aluminum Body, Pressure Treated Pine Floor

Kick Wall Lining to 48"

3/4" Rubber Floor Mats

Two Way Roof Vents

Interior Lights, w/Exterior & Interior Switches

Man Door in Nose w/Bus Window,

Remove-able Dividers, No Rear Post

Mangers w/Saddle Rack and Bridle Hook below   

Rear Ramp with opening curtain doors above.
In stock in Silver or White skin.  

This trailer is the XL version. Also available in standard size, 6'W x 7'H x 11'L, by special order for $400 less.
TRADES WELCOME.  Interested in this trailer, Call today for an estimated trade-in value on your trailer.   
ROSELL TRAILER SALES
610-756-4257
 
Excellent Deals available on remaining inventory.
Full Range of Trailers USA on Order.