Trailers USA 2 Horse Patriot Bumper pull with Dressing Room XL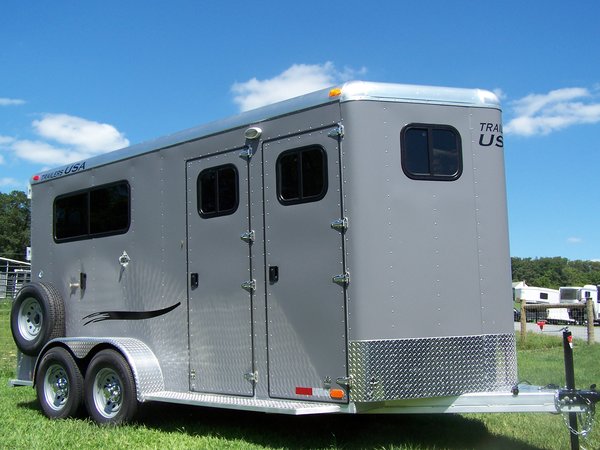 Trailers USA 2 Horse Patriot Bumper pull with Dressing Room XL
***SOLD*****
2016 Trailers USA 2 horse bumper pull
80" Wide Body x 7' 6" Tall x 17' Floor Length

Warm Blood size Patriot Model

Extra foot of length in the stall area for larger horses




Alll side walls in the horse area and dressing room are lined and insulated

Straight load bumper pull

Dressing room

Charcoal skin exterior with white skin interior

Rear ramp

Windows in the double doors above the rear ramp

2 Full height escape / access doors.

Dressing room has bridle racks, blanket bar and saddle racks.

Rear load light

Side porch light near dressing room door.

Two 3500 lb / Rubber Torsion Axles = 7,000 GVWR, 15" Radial Tires with Spare

Full tubular aluminum construction with 2" side walls & 2" insulation

Ribbed Rubber lining on side walls with the strength of .090 aluminum kick wall behind it.




Also Available in White Skin without the added insulation.